Gift Vouchers
We think that the gift of a quiet, isolated escape to the Cabin might be one of the best presents ever! So scroll on down, choose any amount over £50 and we'll send you an e-voucher within 24 hours (each gift voucher is unique to you, it takes a while for me to generate a code so bear with and it'll be with you asap)
Guide: Current prices if you'd like you buy your loved one(s) a full break (either 3 night weekend or 4 night mid-week) are as follows (add £15 if you'd like to treat them to a pre-lit hot-tub)
High: £395
Mid: £365
Low: £345
Gift Voucher Terms & Conditions
1. Gift Vouchers are valid for 12 months from issue date. The booking must be made within this time, but the stay can fall outside of it.
2. If the total value of your stay is greater than the Gift Voucher, the excess is the responsibility of the Gift Card holder.
3. If the total value of stay is less than the Gift Voucher, there will be no cash refund, but the difference can be reissued to you as a separate Gift Voucher.
4. Gift Vouchers will be deducted from the total value of the stay at point of booking.
5. Costs associated with travel to and from the chosen place are the responsibilities of the Gift Card holder.
6. When booking online, you must enter the unique reference number into the relevant section of the booking form.
7. Gift Cards may only be redeemed once, cannot be exchanged for cash and are non-transferable and non-refundable.
8. Terms & Conditions are subject to change. Our Booking Terms apply.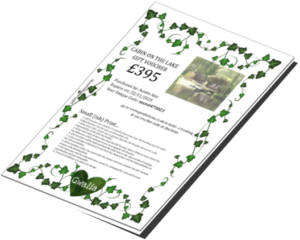 By clicking on the following link you're confirming that you have read and agreed to the above terms.  CLICK HERE TO BUY A VOUCHER clicking on the link will open a new window at Stripe, our payment partner